WHO chief underscores need for 'peace for health' in landmark visit to northwest Syria
[ad_1]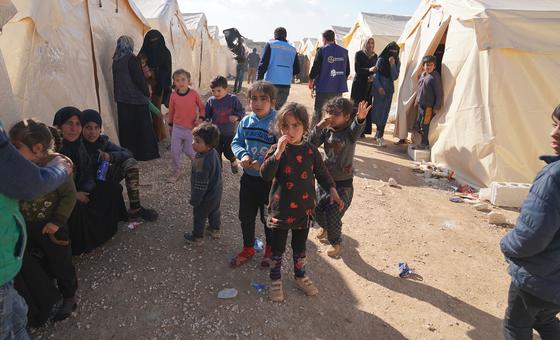 "I have rarely been so disturbed and heartbroken," said WHO Director-General Tedros Adhanom Ghebreyesus, speaking later at a media briefing. 
"The earthquake that struck more than three weeks ago adds unimaginable suffering to people who have already suffered so much over 12 years of war, economic collapse, the COVID-19 pandemic and an ongoing cholera outbreak." 
Sorrow, respect, commitment 
The region is the last redoubt of opposition fighters, who continue to resist government forces and their allies, with millions of civilians sheltering there – many having been displaced multiple times.  
Tedros met with WHO partners who are delivering essential care, including specialized orthopaedic and paediactric services. 
He offered his deepest sorrow to those who lost their loved ones, homes and livelihoods, while expressing deepest respect for the responders and health workers, many of whom also lost family members. 
He underlined the UN agency's commitment to continue to assist Syrians but urged greater international support for the recovery and rebuilding efforts. 
Appeal to Syrian leaders 
"At the same time, I call on the leaders of both sides of the Syrian conflict to use the shared suffering of this crisis as a platform for peace," said Tedros.  
The war has delivered nothing but suffering, division and the destruction of Syria's proud history and rich culture, he added.  
"The earthquake must shake all of us to the realisation that we are one humanity, sharing one planet. We have no future but a shared future.  More than ever, the people of Syria need health for peace, and peace for health." 
Distributing life-saving aid
WHO also distributed additional life-saving medicines, supplies and equipment to three hospitals in northwest Syria on Wednesday. 
The supplies were sufficient for 280,000 treatments, including for the management of trauma, diabetes, and pneumonia, as well as vitally needed anaesthesia drugs and surgical supplies.  
Northwest Syria and neighbouring Türkiye were struck by powerful earthquakes on 6 February, which killed more than 40,000 people.
In the first hours of the tragedy, WHO distributed 183 metric tonnes of supplies prepositioned inside northwest Syria from warehouses in Azaz and Idlib to more than 200 health facilities.  
Additionally, over 140 tonnes of supplies have been transported into the region from across the border in Türkiye, and across lines within Syria. 
[ad_2]